The Peepal Grove School ­ Art And Space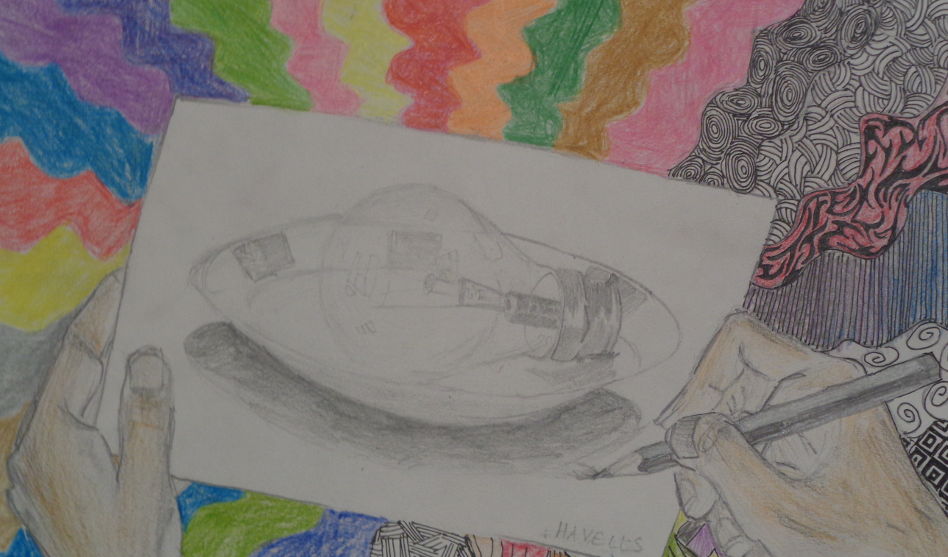 Splash! Sploosh! Colours! Colours everywhere. This is what I have been watching my mom do since I was a kid. I have seen her put every bit of her being on to her canvas. She put no restrictions and no bounds on me to explore and create my own world of colours.
But this did not happen when I started going to school. They would not let us create our own world, "A square with a triangle on top makes a house. The roof is red, the walls are yellow". Well, I did not cope well with the art classes as I would not accept these restrictions.
For me, art was a way of expressing myself, something I love or makes me happy – it all comes out through colours for me. But in school, they started making art a burden. A way of getting marks in exams.
My Journey at PGS – An alternative residential school in India
When I came here to Peepal Grove, I felt the space, the freedom I needed to expand my world of creativity. They gave us a wider interpretation of art. They supplied us with many different types of media and material. The teachers tried to find our interests by having various workshops with us.
At The Peepal Grove School, an alternative residential school in India we are encouraged to experiment with different mediums like clay, painting, nature drawing, carving, embroidery etc. Our work gets exhibited so that parents and teachers see where our creativity had led us. The most inspiring thing is the natural beauty around the school. The lush green trees, colourful birds and butterflies, the sunsets in the summer, the landscape in the rain are all magnificent.
Every bit of this school has inspired me and taught me the deeper meaning of art. This has given me an opportunity to relate to art in a different way. This opportunity for artistic expression gives me happiness and peace – and the two are inseparable just like this school and me.
Shreya Baoni is a student of Class 10 at The Peepal Grove School – an alternative residential school in India founded by Sri M.